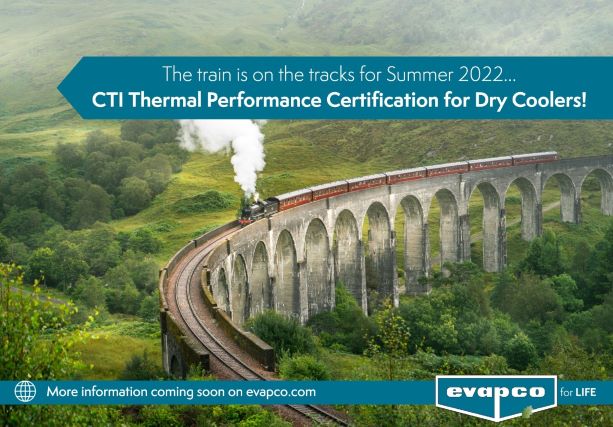 The Cooling Technology Institute (CTI) recently announced the inclusion of dry fluid coolers as part of its existing Thermal Performance Certification Program based on CTI Standard 201.  Both forced and induced draft dry coolers are covered by the program, cooling either water or aqueous glycol solutions.
This effort to include dry coolers in Standard 201 was undertaken to level the playing field against commercially rated cooling equipment, assuring equipment owners and operators that the heat rejection equipment will perform thermally as specified.  For dry coolers to be 'certified' per Standard 201, they first need to be tested by a licensed CTI test agency per Acceptance Test Code (ATC) 105DS.
Implementation of the certification program will begin effective summer of 2022.  Visit www.cti.org to learn more. 
What is the value of CTI certification?
Consulting engineers who specify CTI certified equipment can rest assured that the equipment will perform as specified.  CTI certification eliminates the liability for the consulting engineer as it pertains to the performance of equipment while giving credibility to the manufacturer's published thermal performance ratings.
Building owners & equipment operators who purchase CTI certified equipment can have confidence that they will not experience increased operating & repair costs for deficient equipment.
Thermally deficient dry coolers which are not put through the rigor of CTI certification could consume higher fan energy throughout the year compared to units that are tested in accordance with ATC 105DS and have their thermal performance certified per CTI Standard 201.
CTI's thermal performance certification of evaporative heat rejection equipment including open cooling towers and closed loop fluid coolers completely transformed the competitive landscape and eliminated manufacturer's providing deficient equipment from contention on projects requiring verified performance.
For more information on CTI certification, please contact your local Evapco Sales Representative or visit www.cti.org!